Contact our Sales Team by Email: opt@optcorp.com or Telephone: 800-483-6287






Carbon tube Astrographs
with wide, flat fields utilising Carbon fibre sandwich tubes.
Note: All USA AG 'scopes are supplied with adapters to connect to Starlight Instruments FTF3235B-A 3 inch focuser. Focusers are not supplied with the telescope but are available as an 'add on'. Images used are for aesthetic appearance only.
Modern technology is now capable of applying space age materials to amateur telescopes. However, it is also relatively easy to produce these materials to different grades and of course, different qualities and prices. Our tubes are made from materials which are exactly the same as ones used on both Formula 1 racing cars, aerospace technology and orbiting Earth satellites. The reason we use this extremely high grade of carbon and resin is to achieve a virtual zero expansion rate and incredible strength. Both of which are essential to produce the highest quality images by maintaining a precise focal plane position and, an extremely rigid, and non flexible tube. Anything less is susceptible to focal plane movement through temperature change and flexure which produce irregular shaped star images, particularly at the field edge of an image. It is relatively easy to produce significantly lesser quality tubes and the lower price of the telescope is a feature of this. However, this can be a false economy if you are after producing the finest images possible. If you have a tube which flexes slightly or has a lower grade carbon/resin construction, there is virtually nothing you can do about it, you have got what you paid for and must live with it.
AG telescopes are precision computer designed, hand built instruments. The flat fields are achieved by employing a state of the art, lens corrector system, designed especially to produce a wide, flat fields up to 60mm diameter.
The excellent Starlight Instruments - Feather Touch FTF3235B-A 3 inch dual speed focuser is vailable as an add on (see below right) to offer excellent stability over a wide range of camera loads.
To aid stability even further, we also offer our 'FocusForm' equipment to reinforce every possible position where the smallest amount of flexure could take place, ensuring a rock steady platform for perfect, reliable, repeatable focusing of the image on your camera chip. Air cooling fans are fitted as standard in the telescope's main mirror cell to introduce cooling air to reach ambient temperature quickly and evenly assuring you of steady air within the tube and little or no possible currents to detract from a perfect image.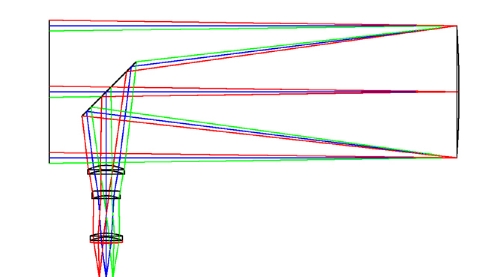 AG Light Path Diagram
All our AG telescopes are extensively tested in our optical laboratories in our factory. However, there can be some small yet irritating effects created on long exposures of subjects on virtually all telescopes which may have a bright star in the field. This effect, if not corrected, can detract from a perfect image of stars and give a little roughness to the edge of a star's edge. It is caused by microscopic ground pits around the extreme edge of the chamfer of the primary mirror which can disturb ever so slightly the light and create this problem. To counter act this small problem, all our AG and ODK primary mirrors have a perfectly formed circular field stop placed around the chamfer of the mirror to eliminate completely this artefact. This stop creates a razor sharp star image, completely free from any slight scattering of light caused by this effect to yield star images, second to none in sharpness and contrast. Correct engineering and testing are essential to create designs such as this. We employ every design feature possible to get that little bit extra out of your telescope, we like to think on a par with the engineering success of F1 cars where nothing is spared for that little bit of extra power.
For clients in colder areas of the world or, ones who live in humid locations with large temperature ranges, we offer a range of internal tube heaters which, are fitted snugly inside the tube by means of a spring loaded mild heating element embedded inside a spring loaded carbon split tube placed just above the primary mirror. This can be removed when not required in a matter of minutes. Also available are secondary heaters which drive off any unwanted dew or frost, on the secondary mirror.
Because of the extensive range of camera, filter wheels, guiders etc which are on the market, we offer a full range of adaptors which will enable you to position your camera chip exactly in the optimum focal plane position of 79mm to achieve the best possible performance of the telescope and corrector combination. These are all listed on each product's page along with some explanations as to their uses and combinations.
The AG series of Astrograph Newtonian telescopes are the best available anywhere, our optics are the key, which is proven even further by some of our OEM competitors buying our optics to fit into their own telescopes. There can't be a better recommendation.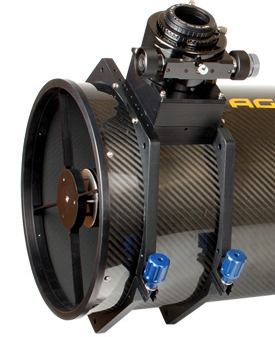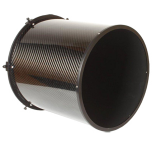 Optional Dew Shield available - this is a matching, lightweight carbon fibre addition to help curb the onset of condensation in damp prone atmospheric climes. It is fitted or removed literally in less than a minute and greatly reduces the heavy dew precipitation which can so easily ruin what could be a classic imaging session.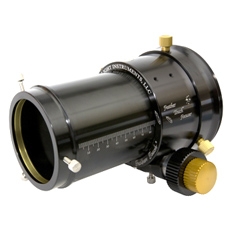 Starlight Instruments - Feather Touch FTF3235B-A 3 inch dual speed focuser. Available as an add on.